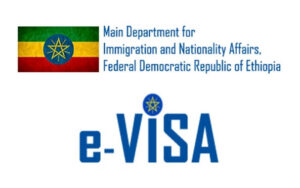 Ethiopia has launched the electronic Visa service (e-visa). The E-Visa must be applied for on the following government site: https://www.evisa.gov.et/#/home
In collaboration with the national carrier Ethiopian Airlines, the Ethiopian Immigration Department has set up a new online e-visa service. You must enter an online questionnaire, insert a copy of the passport, valid for at least 6 months after the stay, and provide an identity photo.
The e-Visa is valid from the date of approval to make a single entry and stay there for up to 30 or 90 days.
For a stay up to 30 days, the price of the visa is 52 US $ (46 euros) and, for a stay of up to 90 days, you will have to pay 72 US $ (64 euros).
Tourists can obtain a visa upon arrival at Bole Airport in Addis Ababa or prior to departure from the Ethiopian Embassy in their country.
All passengers from countries requiring a visa to enter Ethiopia will need to apply for and obtain an electronic visa prior to boarding.
All applicants must complete an online visa application form. Once done, and the application approved, he receives an e-visa by email. On arrival in Kenya, the traveler presents his electronic visa to the competent services, which then affix a standard visa to his passport.
Ethiopia has become easier to access with this new electronic visa service. You just need to apply for a tourist visa online by filling out a form. Once the payment is made securely (52 dollars for a 30 day visa, 72 dollars for 90 days), you will receive an authorization by email which will allow you to have your passport stamped upon arrival at the international airport Bole from Addis Ababa.
As a reminder, the tourist visa is also granted to travelers upon arrival at Bole Airport by Ethiopian Immigration for $ 50, but obtaining it in advance online will skip the line.
Now, all international visitors to Ethiopia can obtain their electronic visa online. It is thanks to the fruitful collaboration between the Ethiopian Department of Immigration and Nationality Affairs and the national company Ethiopian Airlines that they are able to obtain this document and stay legally in the African country.
E-visas available to all visitors (Tourists, business travelers, ...)
The electronic visa is in effect processed and published on a single web page where applicants apply, pay and secure their entry visa online. Once the application is approved, applicants will receive an email authorizing them to travel to Ethiopia. It is on arrival in the capital Addis Ababa that passports will now be stamped for those who requested this procedure.
This project is part of a new national initiative to transform the tourism sector in the country. The full launch of the online visa application and issuance system will promote tourism, trade and investment in the country. This will save time, energy and expense for travelers en route to Ethiopia, in addition to the simplicity and convenience it facilitates.
The leadership of the Ethiopia Immigration Department works in collaboration with Ethiopian Airlines for the effective implementation of E-visas. A dedicated contact center to provide feedback on user experience with this online service: Call +251 (11) 1553899 or direct your inquiry to the following email: support@evisa.gov.et
Type of visas granted to foreigners
If you wish to travel to Ethiopia, you can apply for your entry visa upon arrival at Adis Ababa Airport. You will be granted one of the following visas: Tourist visa, journalist, work and investment for private company, conference, short task for government institution.
Ethiopia's treasure trove of history and culture is opening its doors to tourism. Among the sites to visit are: the obelisk of Axum, the magnificent walled city of Harar, the rock churches of Lalibela; the splendor of the castles of Gondar, the mountainous landscape of the Simien National Park with its unique endemic animals.
Tourist visa application process: Application file
- A recent photo in a format corresponding to the passport size (Copy);
- Copy of the valid visa application (at least 6 months from the date of entry into the country);
- Form to be completed online (https://www.evisa.gov.et/home)
Duration and validity
The tourist visa is valid for 30 to 90 days. To have a visa which will be valid for three months, you must pay 52 UDS; otherwise, you must pay a fee of 72 USD if you wish to stay three months in Ethiopia. The deadline is counted from the date of entry.
Select the type of visa you wish to obtain here
Important information to remember:
- It is possible to pay for your administrative fees at the airport. However, you should be aware that the processing of your file may take three days, so you must arrive at least 72 hours before your date of entry into Ethiopia.
- Read carefully and carefully fill in the boxes of the form.
- Your passport must be valid for at least six months from the date of your entry into Ethiopian territory.
- If you ever wish to cancel the procedure, you cannot reimburse your administrative fees under any circumstances.