Do you travel often for work or for leisure and business class tempts you? A business class plane ticket costs on average five times more than an economy class ticket. Before making a decision, it is therefore important to be sure that you can take advantage of all the advantages that business class offers.
It's often the lack of comfort of economy class that causes us to look to business class for a long-haul flight. Passengers who have flown for fifteen hours with their knees tucked against the front seat and with a screaming baby next to them know: Economy Class can be a nightmare sometimes! The business class offered by the Ethiopian carrier to its passengers traveling in particular on long-haul flights, on the contrary, is generally a haven of peace with appreciable comfort. Each passenger has a large and comfortable chair that can tilt 180 degrees. With this operator, it is even possible to ask a flight attendant or flight attendant to install a mattress in order to transform the seat into a real bed. And to make you feel at home, we will bring you a duvet and a pillow.
If you don't want to sleep, you will still benefit from the ergonomics of the seat. The available legroom is significant, as is the seat back and the footrest which are adjustable in multiple positions. But the comfort of the business class also lies in the privacy it offers to travelers thanks to its particular design. Business class travelers can work or rest out of sight of other passengers.
In business class, passengers are also isolated from the noise of the rest of the aircraft. Many airlines equip their business classes with soundproofing and acoustic curtains. It should be added to this that, most of the time, business class passengers find themselves among peers and have in common the desire for calm. In fact, it is rare to find yourself in business classes with young children running around. If, however, you need even more calm, a hearing protection helmet will be lent to you when you arrive on the plane.
Calmer, more rest, business class allows its passengers to be operational as soon as they arrive at their destination.
Little touches that make the difference
Ethiopian Airlines' Cloud Nine business class is also a certain form of luxury. When you arrive on the plane, you will be warmly greeted by the flight attendants. A flight attendant or flight attendant is reserved for business class so as not to make passengers wait. In reality, the role of this steward is more to anticipate your needs, than to respond to them. You will be offered a comfort kit on board in which you will find a toiletry kit, cosmetics from major brands and a pair of slippers. Everything to make you comfortable and have a pleasant flight, note business class travelers benefit from a wide range of entertainment options and a personal widescreen display.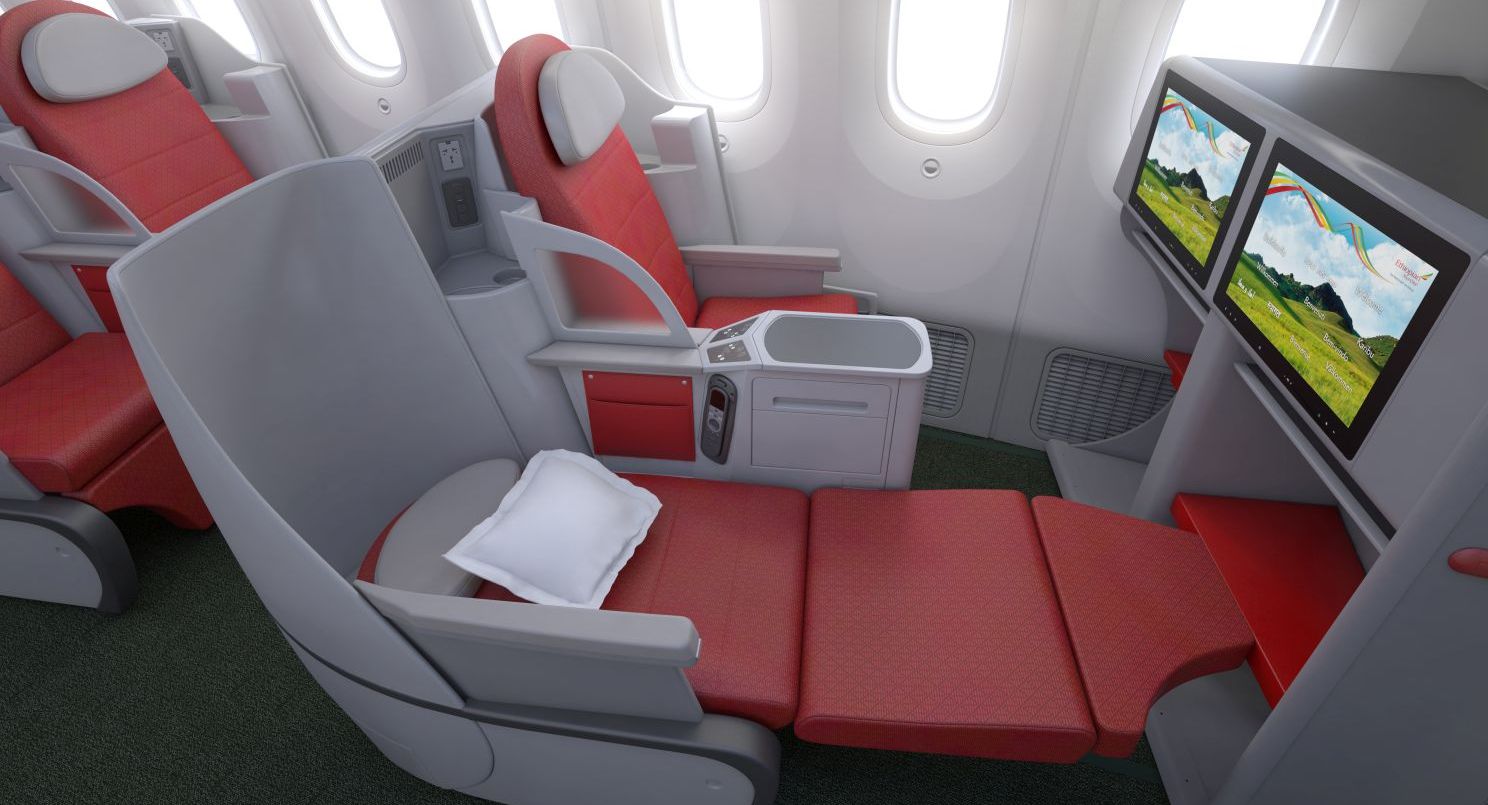 Savor Ethiopian cuisine in the sky
In this cabin, farewell to the eco-class meal trays, each passenger's table is carefully set with a tablecloth and a cloth napkin. Meals will be served on porcelain plates and you will have the privilege of eating with real knives and forks. The Ethiopian company takes great care in the quality of the menus which are often of a gastronomic level.
But before you even get on the plane, your business class ticket will give you a taste of luxury. At the airport, you can quietly wait for boarding in the lounge lounges reserved for business class passengers. You will find a well-stocked buffet, unlimited hot and cold drinks, newspapers and magazines and often a rest area with reclining chairs.
And if these little touches seem superficial to you, the last privilege offered by the Cloud Nine class is much more pragmatic. In fact, passengers traveling in Business of this operator, in general, the right to an additional hand baggage and a heavier checked baggage. Convenient when you are traveling loaded or want to take all those personal effects with you in the cabin.
Saving valuable time for business travelers
Business class was originally and as the name suggests, intended for passengers on business trips. In the first rows of the planes, everything is done so that we can work in the best conditions. The area reserved for each business class passenger has sufficient space for a laptop and files. You will have access to an electrical outlet, a USB socket, and sometimes even access to wifi in flight. This service allows you to access your email or even make video conferences at an altitude of 12,000 meters. For professionals, this is therefore the guarantee of making the most of the time spent in flight.
Add to that, passengers traveling in a Cloud Nine cabin do not have to queue at check-in thanks to the priority check-in counter, and they also board the plane first. At many airports served by Ethiopian Airlines, business class airline ticket holders also have priority access to security checks. Traveling in business class therefore represents a considerable saving of time which can be used for other tasks.