Join ShebaMiles : Membership CARD
This status is granted when you enroll in the ShebaMiles program and travel 2 sectors or 3000 status miles.
The ShebaMiles program is intended for any passenger who books and travels on a flight operated by the Ethiopian company or to buy a product, or to shop in a boutique, book a room in a partner hotel, ...
By traveling frequently on the routes served by this operator, you will have the opportunity to quickly accumulate miles, and thus unlock the higher levels of the program giving access to greater rewards and advantages.
Obtain this card? This will require obtaining 3,000 miles, which will subsequently entitle you to a free baggage option on all Ethiopian Airlines flights.
It's the first card you receive when the airline accepts your application to join their rewards program, and the one that gives you access to a host of benefits and privileges.
Miles are the currency of this loyalty program. It is these that allow you to reach higher levels and unlock access to their privileges by giving you the possibility of enjoying all the advantages that have been designed to make your travels more practical and comfortable, and benefit from great rewards, like for example, you can transfer them into a free trip on an Ethiopian Airlines plane.
To get the Blue card, you don't need to make a reservation and earn miles, all you need to do is complete a simple registration to join and subscribe to this program.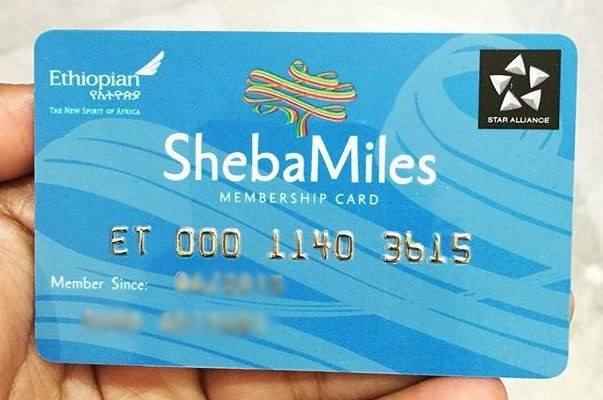 The ShebaMiles Blue card does not give rise to any privileges (except the possibility of pre-boarding), it is just used to provide access to benefits by accumulating miles allowing the subscriber to upgrade to higher levels, a program that provides the opportunity to reward loyal Ethiopian Airlines passengers, those who fly frequently on its lines.
The ShebaMiles loyalty program is unique, in part with the Ethiopian company's unrivaled coverage on the African continent.
Those who regularly travel on flights serving destinations in Africa, or to any of the destinations covered by Ethiopian Airlines in the Middle East, Europe, Asia and the United States, can accumulate miles quickly and will soon enjoy privileges. of membership.
The miles collected entitle them to award tickets, upgrades, check-in and executive lounge privileges, special baggage allowances, etc.
ShebaMiles is designed in such a way that subscribers can travel in absolute comfort on all their flights booked with the Ethiopian national carrier.
By having your credit card, earning miles couldn't be easier. All you have to do is travel with that company to start earning miles which will be credited to your ShebaMiles Frequent Flyer account. For this, you must indicate your membership number each time you make a reservation, purchase of a product or service provided by Ethiopian or its partners.
The credit card allows you to accumulate two types of miles: Base miles and bonus miles (Bonus miles are awarded when registering for the rewards program, traveling in Business Cloud Nine class, booking special offers, etc.)