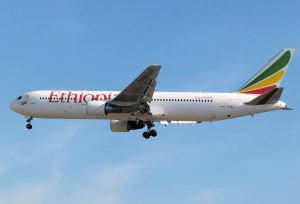 Ethiopian Airlines has announced that it has reinforced its fleet with three 767-300ER model aircraft. The planes are acquired on lease from Titan Aircraft Investments, and will be reconfigured to be operated in the cargo activities of the Ethiopian company.
The carrier from the Central African country has announced and affirmed that its first aircraft will be delivered to it during this month while the second aircraft will join its fleet in December this year. The third aircraft will join its fleet during the first months of next year.
With the validation of this order, Ethiopian Airlines has become the new client of Titan Aircraft Investment which is the result of a partnership concluded between Titan Aviation Holdings and Bain Capital Credit.
In another context, the national carrier of Ethiopia has announced its intention to increase the number of its frequencies to Sao Paolo and Buenos Aires, the two South American destinations which will benefit from additional connections from this month.