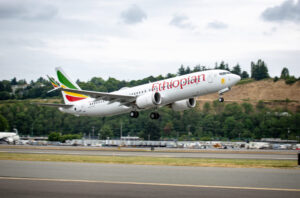 The group, which has agreed to continue to cooperate with the authorities for all ongoing or future investigations and to honor certain commitments, has further committed to pay the United States a fine of $ 243.6 million, as well as $ 1.77 billion in compensation for airlines that ordered the 737 Max, while $ 500 million will be added to a fund intended to compensate the relatives of the victims of the accidents of Lion Air and Ethiopian Airlines.
Solicited by Jeune Afrique, the communication from Ethiopian Airlines was not available on January 8 to comment on this commitment.
The 737 Max again cleared to fly While the US ministry has pledged to lift the charges in three years if Boeing meets all of its obligations, the 737 Max, grounded for twenty months, was again authorized to fly in certain countries at the end of 2020. , especially in Brazil and the United States.
However, the group suffered from numerous order cancellations from airlines with which the 737 Max had been a real commercial success, especially in Africa.
As for the families of the victims, they are not all ready to drop their lawsuits, like Zipporah Kuria, who lost his father in the crash of the Ethiopian Airlines 737 Max, and who believes that the agreement represents a Simple slap on the wrist.