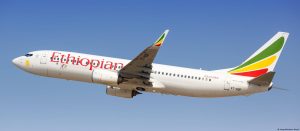 Ethiopian Airlines recently celebrated the 50th anniversary of its first service to China. This landmark event demonstrates the long-standing partnership between Ethiopia and China and the airline's commitment to expanding its global reach.
Ethiopian Airlines launched its first service to China on February 21, 1973, with a flight from Addis Ababa to Shanghai. Over the past five decades, Ethiopian has expanded its service offerings to the Chinese city and other enticing destinations in the country including Guangzhou Hong Kong, among others.
Speaking on this historic event, the CEO of Ethiopian Airlines, Mr. Mesfin Tasew, underscored the airline's commitment to deepening relations between this two countries. "Ethiopian Airlines is more than just an airline. We are a bridge between Africa and the world. Our partnership with this country is an important part of that mission, and we look forward to continuing to develop and expand our offerings. services to this gigantic country over the years." to come," he said.
The Ethiopian airline's success in China can be attributed to its strategic partnerships with airline operators in the East Asian country, as well as the growing trade and investment ties between the two countries of africa and asia. The national carrier has also invested heavily in its fleet and infrastructure, with modern aircraft and world-class facilities that provide passengers with an unparalleled travel experience.