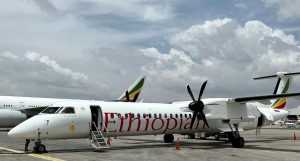 The Ethiopian airliners transporting Ethiopian Airlines jets are returning to the Dash 8-400 in transforming it into a cargo plane. This decision is the fruit of the partnership realized between the airline company and De Havilland Canada, leader dans ce domaine.
The idea is that the transformer is just thirty three aircraft of the Dash 8-400 type and the appareils are uniquely destined for the transport of fret aérien. After transformation, chaque appareil aura la capacité de transporter huit conteneurs LD3.
It involves transforming the cabin where customers travel seated into an additional hold, adding it to the one an aircraft already has in its lower part. The seats are removed, leaving the cabin empty, and standard pallets are placed on them to deposit the cargo.
Ethiopian Airlines has already obtained approval for this transformation, which can be carried out in its repair and maintenance hangars, and MRO maintenance facilities.