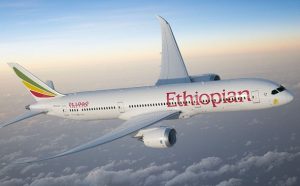 Ivory Coast has entered the club of African capitals with a direct flight to the American east coast. The first non-stop passenger flight linking Côte d'Ivoire to the United States left this Saturday afternoon, May 12, Felix Houphouët-Boigny International Airport in Abidjan for Newark Airport in the State of New Jersey. This new service is provided three times a week by Ethiopian Airlines.
The Ethiopian Airlines Boeing 787 Dreamliner now takes off from Félix Houphouët Boigny airport in Abidjan. 10:30 am flight to Newark, one hour from New York. No more stopovers, particularly in Paris, for the 53,000 passengers who take the Abidjan – New York route each year.
Good news that Amadou Koné, the Ivorian Minister of Transport, welcomed during the inaugural ceremony. "We have a large diaspora in the United States and Canada and it was important that we could create that bridge," he explained. This will increase by about 5% the exchanges between the populations but also the commercial exchanges between the two countries ".
Ethiopian Airlines provides this new service three times a week. Its call price is 470,000 CFA francs or 716 euros round trip. The Ethiopian company which already liaises between Togo and the United States is weaving its web in West Africa.
"Côte d'Ivoire is a very strong economy and the relationship between West Africa and the United States is growing stronger. In addition, Côte d'Ivoire is a hub for the rest of West Africa", explains Tewolde GebreMariam, the general manager of Ethiopian Airlines.
With this new service, Abidjan airport intends to increase its attendance, which is already close to two million passengers per year, in particular thanks to a commercial agreement between the Ethiopian company and Air Côte d'Ivoire which will attract passengers from the sub-region.