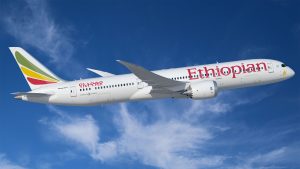 Ethiopian Airlines has strengthened its position in the air bridge linking Bole from Addis Ababa and Manchester. Ethiopia's national carrier has even announced connections between the two airports.
The Ethiopian airline has been serving four weekly connections between the two destinations since the end of the previous month. It flies from Manchester to the airport of the capital of the Central African country on Saturdays, Sundays, Tuesdays and Thursdays. Flights operated by Ethiopian Airlines on this route include a stopover in Geneva, Switzerland.
The aircraft operated on this axis are of the Boeing 787-8 type, and sometimes 787-9, which can carry between 275 and 315 passengers in two classes. They take off from the airport of the city of United Kingdom at 6:50 p.m. to arrive in Geneva at 9:40 p.m. for they leave for Addis Ababa at 10:40 p.m. to land the next day at Bole airport the following day at 7:30 a.m.