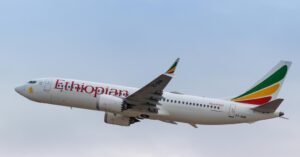 Ethiopian Airlines will offer at least eight routes from Addis Ababa operated by Boeing 737 MAX next month, including one serving Moscow via Athens.
35 months after the crash of its flight ET302 which killed 157 people and led to the grounding of all American re-engined single-aisle aircraft in the world, the Ethiopian national airline will deploy them again in regular service on February 2, 2022 from its base in Addis Ababa-Bole. The 737-8s (five received out of the 30 expected, including the one destroyed), which can accommodate 16 passengers in Business class and 144 in Economy, will be used to the airports of Mombasa in Kenya, then Entebbe in Uganda, Enugu in Nigeria, Goma in the DRC, Istanbul in Turkey, N'Djamena in Chad, Cairo in Egypt and Khartoum in Sudan.
According to the GDS consulted by Simple Flying, two destinations are disappearing from Ethiopian Airlines' 737 MAX program, Moroni via Dar Es Salaam (the Comoros would again be served directly), while the link to Athens then Moscow would be entitled to the 737-8 but only on February 7. They would also make appearances in Blantyre and Beira, Nairobi, Lubumbashi, Maputo and Victoria Falls, on flights so far scheduled only once; Nosy Be in Madagascar and Mahé in the Seychelles are no longer mentioned.
All these programs are of course dependent on the evolution of travel restrictions related to the Covid-19 pandemic.
The Star Alliance company had already announced this return to service of the 737 MAX in early September 2021, CEO Tewolde GebreMariam then referring to a financial agreement with Boeing, "satisfactory" but obviously without details. The sources of the Seattle Times then spoke of a payment of 280 million dollars, the replacement of the destroyed aircraft, discounts on future aircraft orders, and three years of maintenance and free spare parts, or about 600 million dollars in total value. "I can confirm that we are attached to the Boeing 737 MAX. My estimate is that at the end of the calendar year or the beginning of next year, in January, we will fly the plane, "said the leader in the daily.
Remember that the crash of flight ET302 occurred five months after that of Lion Air (flight JT610, 189 victims). More than 400 Boeing 737 MAX aircraft had been grounded around the world while the MCAS software involved in the two crashes was corrected. The MAX 8 had been recertified by the FAA in November 2020, with most regulators having since followed suit. Including those of Ethiopia and lately Indonesia.