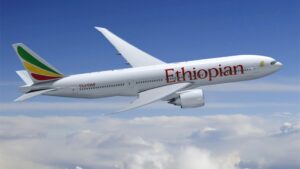 In March 2019, the Boeing 737 MAX was stranded in the wake of the Ethiopian Airlines plane crash that left 157 people dead. The plane finally returned to commercial flights in December 2020 in the United States and since then several countries have given the green light for its return to service.
Ethiopian Airlines's Boeing 737 Max fleet is expected to return to the air by January. This is what the CEO of the national flagship Tewolde GebreMariam announced on Thursday, September 2, in an interview with Bloomberg News.
"I can confirm that we are attached to the Boeing 737 MAX," he said. "My guess is that at the end of the calendar year or early next year, in January, we'll be flying the plane."
The new announcement comes following an amicable settlement between the Ethiopian carrier and the American aircraft manufacturer, regarding the fatal accident of flight ET 302, departing for Nairobi, on March 10, 2019.
Terms of the deal were not disclosed. But according to the Seattle Times, the deal is expected to include a $ 280 million cash payment, replacement of the destroyed aircraft, discounts on future aircraft orders and three years of free maintenance and parts. or about $ 600 million in total value.
Ethiopian Airlines still has 25 aircraft of the type on order, five – including the one involved in the crash – having already been delivered. "We have settled our case with Boeing, which is why we are now starting the process of returning the plane […] We are satisfied with the settlement," said the leader.
Moreover, the two parties are resolutely committed to opening a new page of historic collaboration. On August 30, Ethiopian Airlines and Boeing announced the signing of a strategic partnership aimed at positioning Ethiopia as an aviation hub in Africa. The scope of this new merger covers the training of pilots and technicians, industrial development, educational partnership and leadership development.
What about the other African operators of the 737 MAX?
In Africa, three other operators operate the Boeing 737 MAX 8. Since the lifting of the ban, Royal Air Maroc, which has 4 units (two of which are in service), has redeployed the aircraft in early July on services to Paris, Marseille, Toulouse, Lyon and Barcelona. The same month, Mauritania Airlines put its only 737 MAX 8 back into service. However, the South African company Comair, placed in receivership, has not yet ruled on the resumption of activities of its first MAX 8 received in February. 2019.
Presumably, the aircraft is no longer in the company's development plans. In March, the British Airways franchise partner gave discharge to the directors in charge of the restructuring to open negotiations with Boeing for the cancellation of the order (8 aircraft) in progress.