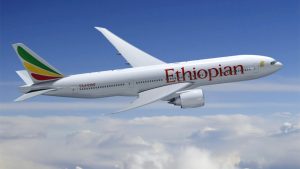 Ethiopian Airlines recorded rising revenues during the period of June 2021 and July 2022.
Despite rising fuel prices and major disruptions to the air transport sector due to the coronavirus pandemic, Ethiopia's national carrier has posted a positive balance sheet with a turnover of five billion dollars to generate a net profit of nine hundred and thirty seven million during this period, an increase of 90% compared to the revenues generated during the previous fiscal year.
Speaking on this remarkable growth in the revenue of the Ethiopian airline, Mamo Mihretu, the managing director of Ethiopian Investment Holdings, referred this growth to the increase in the number of international flights served by the first African carrier during this period.
As a reminder, Ethiopian Airlines transported six million and nine hundred thousand passengers on board its planes in one year, showing a growth of 36%, while its cargo activities recorded an increase of 59%, with seven thousand seven hundred tonnes transported. during the same period.