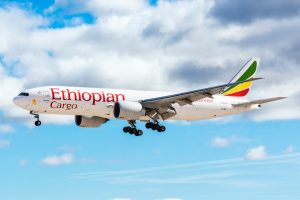 Ethiopian Airlines intends to strengthen its fleet of aircraft intended for cargo activities by adding five new Boeing 777-8 Freighters.
The East African country's number one airline currently operates nine Model 777 aircraft in its cargo fleet, with a carrying capacity of 170 tonnes and capable of servicing flights over a distance of 4,970 miles. These aircraft are deployed on routes serving more than sixty five cargo centers around the world.
Ethiopian Airlines' fleet also includes three 737-800 aircraft reconfigured to meet the needs of its cargo service, and another 20 737, 777, 787 and 777 aircraft.
Mr Mesfin Tasew. the CEO of the Ethiopian Airlines group "Strengthening our fleet with five new aircraft allows us to further increase our freight transport operations in the areas where we are already present, but also enrich our network by arriving at new freight centers.
The addition of the 777-8 Freighters in Ethiopian's Cargo fleet also allows it to strengthen its position as a leader in the African market, added the first manager of the African group.