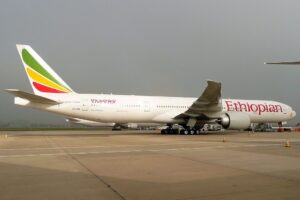 Ethiopian Airlines' Boeing 777-300ER resumed service last week after being pulled from the African carrier's fleet following an incident that occurred just after arriving at Lagos airport in Nigeria, where almost left the traffic lane.
The plane which was deployed on the flight between Addis Ababa and Lagos on June 2 after undergoing a major repair, following the deterioration of its landing gear.
In a statement, the Ethiopian company said that its plane was not damaged and that it is ready to be operated on its next routes.
Arriving from Lagos, the plane belonging to Ethiopian Airlines had a rough landing at the Nigerian airport. Indeed, on approaching the runway, its landing gear was damaged, forcing the pilot to land the jet in disaster.
No injuries were recorded between the passengers who were evacuated and taken away by the emergency services. Investigators were dispatched to find out the origin of the accident.