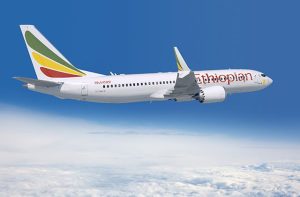 Three and a half years have passed since the horrific crash of the Ethiopian Airlines 737 MAX 8 plane, which crashed just minutes after taking off from Addis Ababa airport in Ethiopia, killing more than one hundred and sixty people including crew members.
Following the tragic incident, Ethiopia's flag carrier decided to withdraw the remaining 737 MAXs from its fleet, but three years later the East African country's airline has reversed its decision. and began operating the 4th generation of the 737 family of aircraft again after the flight control software problem that caused the crash was resolved, the recertification of this model by the FAA, EASA in Europe, Transport Canada, CAAC, ECAA and other regulatory agencies
Even more, Ethiopian Airlines placed an order with the American aircraft manufacturer for the acquisition of 25 model 737 MAX 8 aircraft, and it already had its first aircraft on June 30, bearing the registration ETAWJ.
Currently, the Ethiopian flag carrier's fleet includes five 737MAX aircraft with a two-class configuration, including 16 Business class seats.