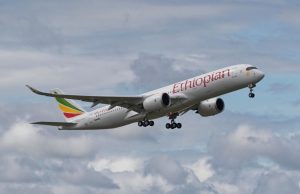 Ethiopian Airlines has relaunched a service between Addis Ababa and Enugu, its fourth destination in Nigeria. She also announced that she has resumed flights to Buenos Aires in Argentina.
The Ethiopian national airline now offers three flights a week between its base in Addis Ababa-Bole and Enugu-Akanu Ibiam airport, operated by Boeing 787 Dreamliner. The five-hour flight will be offered Monday, Wednesday and Friday without competition.
Ethiopian Airlines suspended this route in 2019, when work began at the Nigerian airport; the Covid-19 pandemic had hitherto blocked any attempt to return, the Star Alliance company remaining the only foreign carrier there alongside Arik Air, Air Peace or Aero Contractors among others.
Its local manager Shimeles Arage stressed that "the flight to Enugu on this day will strengthen the good relations of Ethiopian Airlines with Nigeria" which it has served since 1960. Ethiopian Airlines already lands in Lagos, Abuja and Kano.
The airline would also have announced the relaunch after six months of suspension – of the route between its capital and the airport of Buenos Aires-Ezeiza, initially three times a week in 787. The flight program will, however, depend on demand. and travel restrictions then in force, to this second destination in South America after Sao Paulo in Brazil.