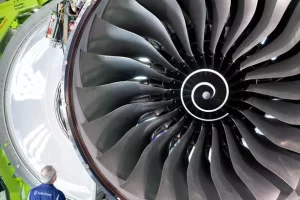 British engine manufacturer Rolls-Royce recently signed a TotalCare service agreement with Ethiopian Airlines for its future Trent XWB-97s. This partnership marks an important milestone for both companies and demonstrates the growing demand for reliable and efficient engines in the aerospace industry.
The Trent XWB-97 is considered one of the most advanced and efficient engines on the market. It has been specially designed to fit the Airbus A350-1000, offering exceptional performance and fuel efficiency. With this new service contract, Ethiopian Airlines can ensure that its A350-1000 fleet will be equipped with state-of-the-art engines that are not only reliable but also cost effective.
This contract is a comprehensive package offered by Rolls-Royce, which covers all aspects of engine maintenance and support. It includes access to spare parts, technical expertise and regular maintenance inspections to ensure optimum engine performance throughout its life cycle. This partnership will allow the Ethiopian company to concentrate on its core activities while entrusting the maintenance and servicing of its engines to the trusted professionals of Rolls-Royce.
For the national airline of the Central African country, this agreement demonstrates its commitment to providing the best possible service to its customers. By partnering with the aero-engine giant, the airline can ensure its fleet operates with maximum efficiency and reliability, reducing operating costs and improving overall customer satisfaction. Trent XWB-97 engines are renowned for their exceptional performance and low environmental impact, which is a perfect fit with Ethiopian Airlines' sustainability and operational excellence goals.