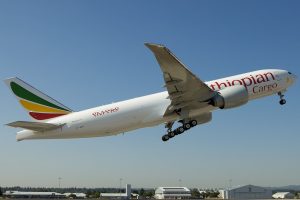 Ethiopian Airlines has launched a new cargo route between Addis Ababa, the capital of Ethiopia, and Chengdu, the capital of China's Sichuan province. This initiative strengthens the airline's presence in the Chinese market and increases business opportunities between Africa and Asia.
The new cargo service is planned to operate twice a week, using Ethiopian Airlines' state-of-the-art cargo aircraft. This will provide importers and exporters with a reliable and efficient way to transport their goods between the two cities. Chengdu, known as the "Western China Gateway", is a major economic and logistics hub in China, making it an ideal partner for Ethiopia's growing economy.
The launch of this cargo service is the result of the expansion of trade relations between the two countries. Over the past decade, China has become one of Ethiopia's largest trading partners, with trade volume reaching billions of dollars. This new link should further stimulate bilateral trade and strengthen economic ties between the two countries.
This new freight service will not only benefit Ethiopian and Chinese companies, but will also have a positive impact on other African countries. Thanks to its strategic position, the Ethiopian company can serve as a bridge between Africa and Asia, facilitating trade and investment opportunities for the entire continent. It will also create new employment opportunities in both countries and contribute to their economic growth.