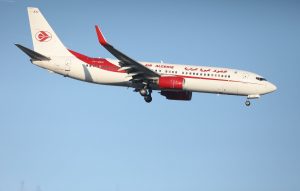 The airline Air Algérie plans to open a dicert line to serve Ethiopia. The national air carrier is barely regaining its pre-health crisis pace and is also discussing several opportunities to capture new African air markets. Air Algérie has announced its intention to soon open direct flights to Addis Ababa from Algiers-Houari Boumdien, the airport which hosts its main hub.
Air Algérie can provide more information on the opening of this connection over the next few days, specifying the number of departures that will be offered each week to Addis Ababa – Bole airport over the next few days.
The connections to the capital of Ethiopia should be added to those that have been relaunched and inaugurated recently by the Algerian Algerian company, such as those serving Dakar in Senegal, Nouakchott in Mauritania and Niamey in Niger.
In the same context, Air Algérie confirmed its arrival on new axes connecting its base at Algiers airport to several other destinations in the African continent from this month. These are the airlines to Abidjan in the Ivory Coast, Bamako in Mali and Ouagadougou in Burkina Faso.