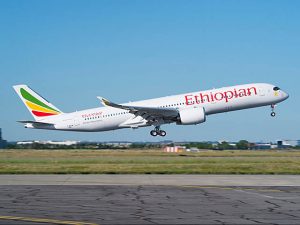 Ethiopian Airlines has placed an order with Airbus for the delivery of A350-1000 type aircraft to replace four of its A350-900s.
The African carrier plans to introduce this device which must have extraordinary capabilities while having state-of-the-art facilities.
The A350-1000 is an aircraft that can be configured to carry seventy additional passengers compared to the A350-900. And if Ethiopian Airlines wants to use it to ensure its freight activities, it can use it to transport 44 LD3 containers in the hold, ie 8 additional containers compared to those that can be transported by the previous version of the A350.
On the flight side, the Ethiopian company resumed its flights to Manchester while changing the stopover point. The plane deployed to the destination of the United Kingdom will stop at Geneva-Cointrin airport knowing that previously, the stopover was made in Brussels.