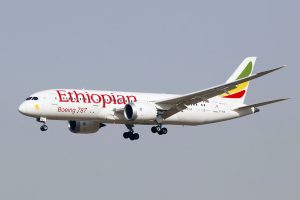 Ethiopian Airlines has obtained the green light to restart its services between Geneva and Manchester. The flights offered by the Ethiopian airline between Addis Ababa – Bolé and Manchester airport in the United Kingdom will resume at the end of October of the current year, but this time will pass through Geneva-Cointrin in Switzerland, instead of Brussels.
Ethiopian Airlines will operate on this triangular route with two-class Boeing 787-9 Dreamliner with a capacity of 315 passengers including 30 passengers in Business class.
Flights to the Swiss city will depart every day of the week except Monday, Wednesday and Friday. In the same context, the Ethiopian air carrier declared that it has maintained its operations to Brussels by offering seven weekly frequencies, two of which are served with a stopover in Vienna.
Ethiopian Airlines has on the other hand the resumption of its commercial flights in 737 MAX 8. Its first flights which will be served by these devices (removed from its fleet in March of the year 2019 after the air crash causing the death of hundreds passengers and the board crew), will have to take off in February of next year.