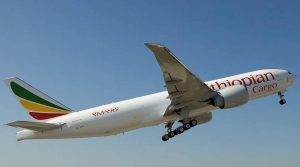 Ethiopian Airlines recently announced that it is stepping up its efforts to strengthen its cargo business. The airline is implementing new systems and processes, as well as staff training.
In the same context, the Ethiopian airline announced that it had added two new international destinations to its freight network. These are Xiamen and Shenzhen, two cities in China.
Ethiopian Airlines' Cargo division has been busy implementing a number of new systems and processes to ensure that its services remain in line with industry standards. Thus, it has implemented interline agreements with other airlines, online reservation and tracking systems, electronic cargo technology, dangerous goods handling qualities and aircraft conversions for special cargoes such as the Boeing Freighter Aircraft 777.
Employee training
In addition to creating new reservation systems and processes, the company is also investing in staff training programs. In doing so, it ensures that its staff members are familiar with best practices in cargo operations. This will help them prepare handlers and managers who can execute efficient shipments quickly, efficiently, and safely.
Invest in technology
To increase the efficiency of its cargo service, Ethiopian Airlines has invested heavily in advanced technology solutions that enable faster processing of shipments, better communication between customers and shippers, better routing options for airlines freight transportation, higher levels of visibility into shipments as they progress from origin airports to destination airports, as well as accuracy in the calculation of duties and taxes associated with freight transportation.