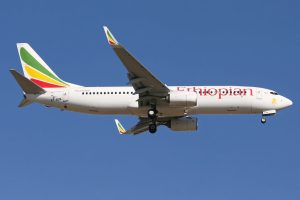 Ethiopian Airlines, the flag carrier airline of Ethiopia, recently announced that it will start operating direct flights between Addis Ababa, the capital of Ethiopia, and Karachi, the largest city in Pakistan. This new route is expected to be a game-changer for both countries as it will boost tourism, business and cultural exchange.
Direct flights between Addis Ababa and Karachi will start on May 1, 2023 and will operate four times a week namely: Sunday, Monday, Wednesday and Friday at 9:45 p.m. for an expected arrival at Karachi-Jinnah airport at 5:05 a.m. Return flights will leave Pakistan's capital at 5:55 a.m. returning to Addis Ababa Bole at 8:55 a.m.
The airline will use a Boeing 737-800 for this route, which has a capacity of 154 passengers. With this new service, Ethiopian Airlines will become the first African airline to operate direct flights to Pakistan, demonstrating its commitment to expanding its global reach.
The announcement of this new route has been welcomed by the Ethiopian and Pakistani governments, as it is expected to strengthen bilateral relations between the two countries. The two countries have a long history of cooperation in various fields, including trade, education and health.
The new direct flights between Addis Ababa and Karachi will facilitate the movement of people and goods between the two countries, which will strengthen their economic ties.
Moreover, the new road will also benefit the tourism industry of both countries. Ethiopia is home to some of the world's most famous tourist destinations, such as the historic town of Lalibela, the Simien Mountains National Park, and the Danakil Depression.
Pakistan, on the other hand, has a rich cultural heritage and has several tourist attractions, such as the ancient city of Taxila, the beautiful Hunza Valley and the majestic Karakoram mountain range.
The new route created by Ethiopian Airlines will make it easier for tourists to explore the two countries and experience their unique cultures.