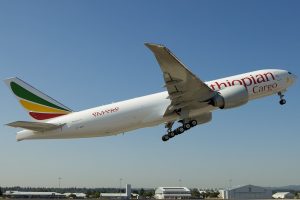 Ethiopian Airlines Cargo is set to strengthen its operations with the addition of three new dedicated cargo flights at London Gatwick Airport in November, Air Cargo News reported.
From November 21, 2023, the Cargo division of the Ethiopian national airline will deploy its A350-900, with a capacity of 1,000, to the British airport. Flights from Addis Ababa Bole will operate on Sundays, Tuesdays and Thursdays, providing a reliable and efficient transportation solution for cargo and goods.
The decision to add these dedicated cargo flights at London Gatwick demonstrates Ethiopian Airlines' strategic approach to expanding its global reach and meeting the growing demand for air cargo services. London Gatwick Airport, with its well-developed infrastructure and strategic location, is an ideal gateway for cargo transportation to and from the United Kingdom.
Ethiopian Airlines Cargo has demonstrated its excellence in the aviation sector, providing reliable and punctual cargo deliveries to various destinations around the world. With its modern fleet, efficient operations and experienced staff, the airline has built a reputation as a trusted logistics partner for businesses across different sectors.
The introduction of these new flights will not only enable EA Cargo to process more shipments, but also contribute to the economic growth and development of Ethiopia and the United Kingdom. The increased connectivity will facilitate trade and business opportunities between the two countries, thereby promoting stronger economic ties.
By expanding its cargo network to London Gatwick, EA Cargo offers businesses and individuals, both in Ethiopia and the UK, an efficient and convenient option for transporting goods. Whether it's perishables, pharmaceuticals, textiles or e-commerce shipments, the airline's drive for excellence ensures that customers' goods arrive on time and safely.