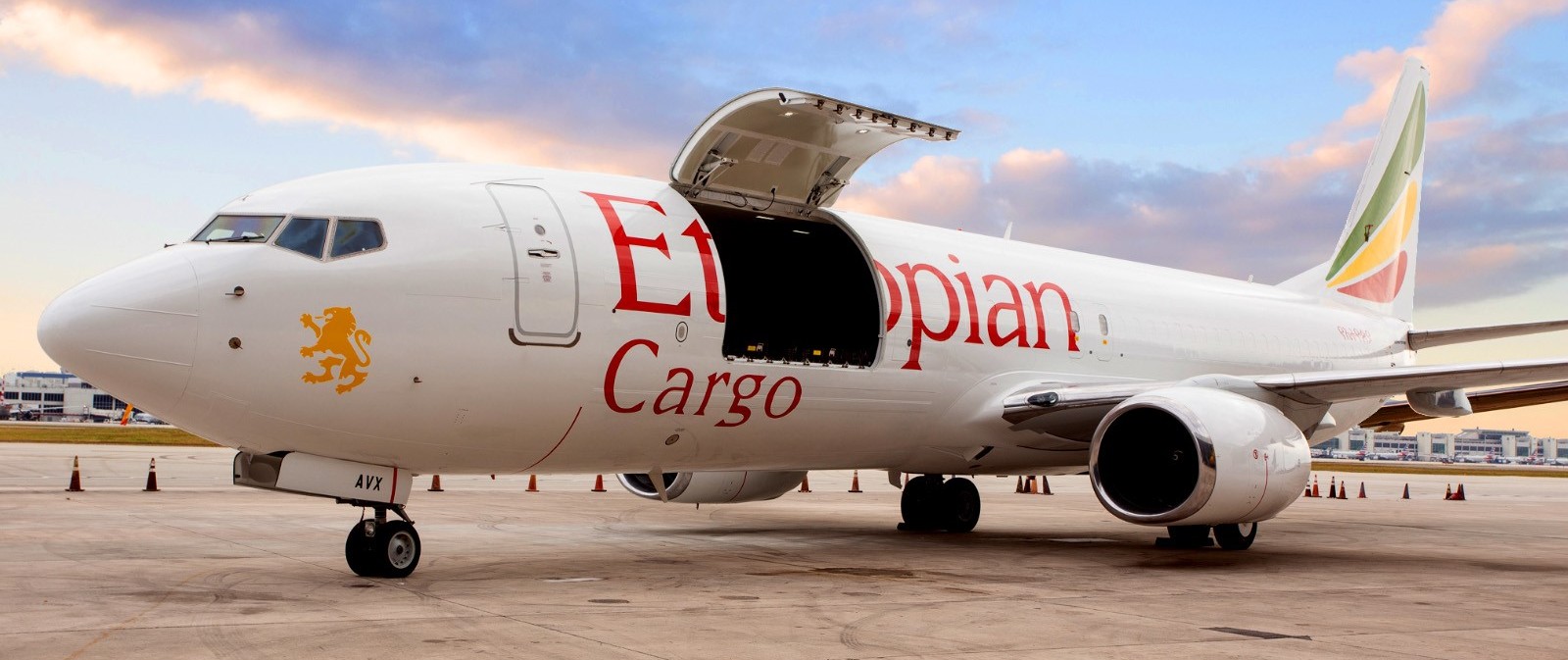 Ethiopian Airlines has successfully opened several cargo airlines between various major cities around the world. Thanks to its innovative service, it has succeeded in reducing shipping times between Africa and other continents of the globe, thus facilitating fast and efficient global trade.
Several new routes are inaugurated each year by the Ethiopian company to densify its freight network.
The cargo arm of Africa's leading air carrier continues to play a key role in the evolution of freight transport in the dark continent. Its network covers 57 international destinations in Africa, the Gulf, the Middle East, Asia, North America, Latin America and Europe.
Ethiopia's national carrier has an all-cargo fleet that includes 10 Boeing 777F and two Boeing 737-800F aircraft.
Thanks to its growing global network, Ethiopia's national carrier is able to offer a full range of air cargo import and export services to and from any location in the world. It is able to control transit times, space allocation and offer greater flexibility allowing us to provide premium service to you and your customers. Its international network and large international agencies will always find the right solution to get your product where it needs to be.
Air freight tracking and tracking
This airline understands that air freight is a high-end international freight service that most likely has to meet deadlines. Its branches use the same technology globally, meaning your team can rely on real-time data accuracy and visibility anywhere in the world.
Milestones are automatically updated and fully visible on its online portal. Automated alerts confirming estimated and actual arrival times can be sent to you directly by text or email, allowing you to plan your workload.
Air Cargo services provided by Ethiopian Airlines
Air cargo facilities are conveniently located near airports streamlining the movement of urgent air cargo shipments. With the support of its local team ensuring a smooth transition in the field for all last mile delivery requirements, as an end-to-end supply chain service, the African carrier offers airport-to-airport, door-to-airport and airport-to-door services.
Whatever your needs, it can shape a solution to add value to your business.
This airline has several sites in Africa, Europe, Asia and the Middle East.
Track the delivery of your products (parcels, goods, etc.) on Ethiopian Airlines planes, online
The African company is putting online a reservation system that works on any type of device. So you can book, update and track your loads at your convenience. To do this, you just have to go to this website https://cargo.ethiopianairlines.com/e-cargo/CargoTrack, and fill in the required fields to start the operation.