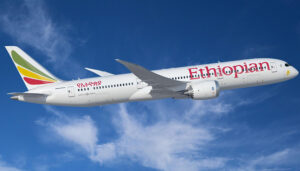 Ethiopian Airlines receives an extension to its suspension on its Shanghai route after 11 new passengers tested positive for Covid-19. The company will not resume this route before 2021. The resumption of Beijing has been postponed to January 1, 2021.
According to a directive from the Civil Aviation Administration of China (CAAC), in effect since June 4, any flight on which five to nine passengers test positive for the virus will be suspended for a period of one week. Beyond 10 cases, the company will be suspended for 4 weeks on this route. Conversely if all incoming passengers on a flight test negative for 3 consecutive weeks, the operating airline will be allowed to increase its flights to 2 rotations per week.
This is the third time that Ethiopian Airlines has been sanctioned on this route. It had already been suspended for a week, effective August 31, after 5 passengers tested positive.
Note that the company will continue its commercial passenger flights to the Chinese cities of Chengdu and Guangzhou, but the resumption of flights to Beijing has been postponed to January 1, 2021.