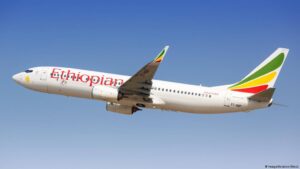 Ethiopian Airlines and Boeing have announced a 36-month strategic memorandum of understanding, the objective of which is to launch a campaign of pilot training, industrial development, educational partnership and leadership development.
Make Ethiopia "the aviation hub in Africa": this is the objective described by the Ethiopian national company, based at Addis Ababa-Bole airport, to take advantage of "70 years of common history "with the American manufacturer. Boeing "recognized Ethiopian Airlines as the world's leading aviation company on the continent," the statement said announcing the "world-class, beneficial" partnership. To achieve their "common vision", Ethiopian Airlines and Boeing have agreed to work in partnership in four areas of strategic collaboration, namely: industrial development, advanced aviation training, educational partnership and leadership development over a period of three. years.
Star Alliance and Boeingian want the Ethiopian Aviation Academy to be recognized as "a world standard for aviation training". The aircraft manufacturer is also committed to expanding the manufacturing capacity and after-sales service of aviation in Ethiopia.
Thanks to this memorandum of understanding, Boeing and Ethiopian will join forces to "develop their capacities to be competitive on a global scale". They seek to build a 21st century pipeline for aviation careers in Ethiopia. "They will work with" highly qualified educational institutions and aviation industry partners "to create specialized learning and development programs to meet labor demands. Finally, they will also work together to develop Ethiopia's "present and future generations of leaders" for Africa.
Tewolde GebreMariam, CEO of Ethiopian Airlines Group, said: "I am very pleased not only to sign this historic memorandum of understanding with our long-standing aviation partner, Boeing, but also to implement milestones. We have been working with Boeing on various large-scale aviation projects for over 70 years to serve the African continent, and this partnership expands and strengthens our capabilities in multiple areas "
He adds, "I have no doubts that with our dedication in its implementation, the MoU will successfully achieve its goal of positioning Ethiopia as the continent's aviation hub. We attach great importance to the essential role of our US partner companies in achieving our goals and we will continue to work with key US aviation players such as Boeing, GE, Pratt and Whitney and Collins Aerospace, etc. "
The Ethiopian Airlines fleet currently comprises 27 Boeing 787 Dreamliner, 19,777 (including freight), 3,767-300ER and 32,737 single-aisle (including 4 of the 31 MAX 8 ordered); it also operates seize the Airbus A350-900.
It has also just announced a cargo conversion program for airliners, in partnership with Israel Aerospace Industries (IAI), at its MRO center in Addis Ababa. He first saw the conversion of the 767.