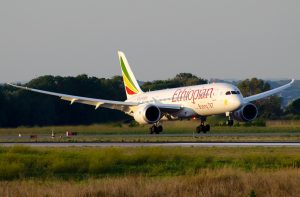 Ethiopian Airlines will land from next June in Buenos Aires. Departing from its Addis Ababa-Bole hub, the East African country's air carrier will fly three frequencies a week to the Argentine capital. The flight will include a stopover in São Paulo, Brazil.
Indeed, this service has already been operational. It was launched by Ethiopian Airlines a few years ago, however, the Ethiopian company was forced to cancel it after the outbreak of the coronavirus pandemic.
Starting the last week of next month, Ethiopian Airlines will send its Boeing 787-8 to Ezeiza International Airport on Saturday, Monday and Wednesday at 9:50 a.m. for an expected 4:00 p.m. arrival at Guarulhos International Airport in Sao Paulo. The plane will leave Brazil at 5:00 p.m. to land in Buenos Aires at 7:50 p.m. Return flights depart from the Argentinian airport the following day at 9:30 am.