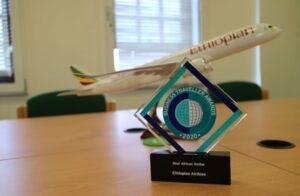 Ethiopian Airlines was honored for "its outstanding contribution" to Ghana's development within the framework of intra-African economic cooperation. The airline, which has served the Ghanaian market for decades, won the "Gold Award" in the last Wednesday, transport category at the 15th edition of the "Ghana-Africa Business Awards".
This year's event, organized under the auspices of the Ministry of Foreign Affairs and Regional Integration, marks the first edition of the awards since the entry into force of the African Continental Free Trade Area agreement ( Zleca).
After decades of reflection and years of postponement, the Zleca is finally operational, offering all African countries, except Eritrea, the possibility of trading within the framework of a single market.
As the continent's largest airline, Ethiopian Airlines helps connect the continent's economies and facilitate trade and tourism.
Since the outbreak of the Covid-19 pandemic, the company has played a key role in transporting health logistics and food freight in Ghana.
Yemesrach Alemayehu, Ethiopian Airline Regional Director for Ghana, Liberia and Sierra Leone, said: "The award demonstrates the airline's continued commitment to the Ghanaian market. We are determined to do our best every day to meet the expectations of our customers ".