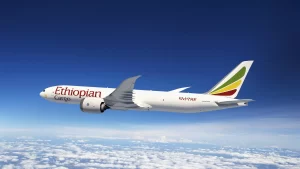 Ethiopian Cargo & Logistics Services was recently awarded the prestigious title of "Best Cargo Airline in Africa" at the Arabian Cargo Awards held in Dubai. This recognition highlights the airline's exceptional commitment to excellence in cargo services and consolidates its position as a leading player in the African aviation industry.
Mesfin Tasew, CEO of Ethiopian Airlines Group, expressed his immense pride and gratitude upon receiving this award. He highlighted the company's commitment to providing premier freight services that meet the highest standards of quality and efficiency. The African airline's president also discussed Ethiopian Cargo's exciting plans, including the creation of an exclusive e-commerce warehouse, specifically designed to handle postal cargo. This state-of-the-art facility is expected to have a remarkable annual handling capacity of 150,000 tonnes.
Ethiopian Cargo has long been recognized for the quality of its air cargo services. It serves more than 57 destinations in Africa, ensuring the efficient transportation of various goods and products. The airline's extensive network enables seamless connectivity and accessibility for a wide range of industries.
This recent recognition as "Africa's Best Cargo Airline" is a testament to the company's dedication to innovation and customer satisfaction. The Cargo division of the Ethiopian national carrier continuously strives to improve its services by leveraging cutting-edge technologies and adopting industry best practices. It has thus gained the trust of its customers and consolidated its position as a reliable partner in the logistics and supply chain sector.