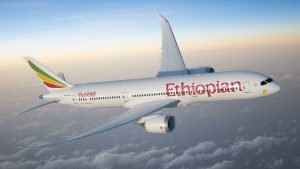 Ethiopian Airlines announces the resumption of flights between Addis Ababa Bole and Madrid. After being suspended in 2020 due to the COVID-19 pandemic, the airline is now ready to reconnect these two destinations. The official start date of these flights is set for December 9, and there will be four flights per week to the airport of the capital of Spain Barajas Alfonso Suarez.
Travelers planning their trips to the Spanish destination can now enjoy convenient flight options on Saturdays, Sundays, Tuesdays and Thursdays. Ethiopian Airlines aims to provide flexibility and choice to passengers, allowing them to plan their journey according to their preferences.
The airline has chosen to deploy its Boeing 787-9 to ensure its frequencies to Madrid, which adds to its international network of more than one hundred and fifty destinations across the five continents of the world.
Still in the news file, the Ethiopian company has actually announced the launch of direct flights to Gatwick London in the United Kingdom and Bangui in Central Africa.