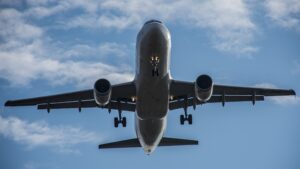 DR Congo, Africa's 4th most populous country, will launch its new national airline, drawing on the expertise of Ethiopian Airlines. With this joint venture, the first African airline company further increases its domination of the continental skies and integrates a very buoyant market.
Congolese Minister of Transport, Chérubin Okende Senga, announced the launch of Air Congo, the new Congolese air flag. Fruit of a partnership with Ethiopian Airlines, this national company "should be born in the coming days in the DRC with quality aircraft", he stressed.
This new company, which will carry Air Congo, will be 51% controlled by the Congolese state and 49% by Ethiopian Airlines. It will replace Congo Airways, the current national air flag, whose network was limited to a dozen domestic routes and a few international lines connecting Kinshasa to Johannesburg (South Africa), Douala (Cameroon) and Cotonou (Benin).
As part of this partnership, Ethiopian Airlines will provide its new partner with at least 7 aircraft. With these aircraft, which will be added to those of Congo Airways, the new pavilion will have a fleet that will allow it to weave a large sub-regional and international network to serve the strong Congolese diaspora, relying on its Ethiopian partner. , the 5th largest company in the world in terms of destinations served.
With this capital and strategic partnership, the DRC follows a long list of African countries which have trusted Ethiopian Airlines to launch their own national flag. This is particularly the case for Zambia, Malawi, Chad, Mozambique.
Note that alongside these national pavilions, the Ethiopian company is also a shareholder and manager of the pan-African company Asky, based in Lomé, Togo. This serves as Ethiopian's second hub and today constitutes a real air platform in West Africa.
This new partnership is also of particular character for Ethiopian Airlines in that the DR Congo is a large country both in terms of its area (11th largest country in the world and 2nd in Africa with an area of ​​2.34 million km2) and by its population, since it is the 4th most populous country on the African continent with more than 90 million inhabitants, after Nigeria, Ethiopia and Egypt.
Other national pavilions could join the fold of the African air transport giant if negotiations with the governments of The Gambia, Guinea and Equatorial Guinea are successful.
The choice of Ethiopian as a partner is explained by the confidence that this pavilion inspires and the quality of its management.