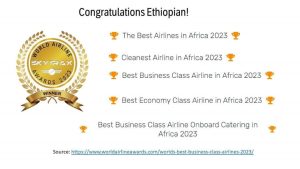 For the fifth time in a row, Ethiopian Airlines has been crowned champion in the Skytrax 2023 rankings. The Central African country's airline continues to set itself apart from its competitors by offering exceptional services and setting new standards in the industry. aeronautics.
Exceptional Customer Service
Ethiopian Airlines places great importance on the experience of its passengers. Its friendly and helpful staff strive to provide top-notch customer service, ensuring passengers' needs are met. From check-in to boarding, flight and disembarkation formalities, the airline makes every effort to ensure a pleasant and stress-free experience for its passengers.
Modern Fleet
The national airline has invested in a modern fleet of aircraft, providing a comfortable and secure travel experience. The planes are equipped with the latest technologies and are regularly maintained to guarantee passenger safety. Ethiopian Airlines also offers a wide choice of classes and seats, giving passengers different options for their comfort and budget.
Extensive destination network
Ethiopian Airlines serves an extensive network of destinations around the world, making it a preferred choice for travelers. Whether you want to explore Africa, Europe, America, Asia or the Middle East, Ethiopian Airlines will take you where you want to go. Their continued expansion into new destinations demonstrates their commitment to providing flexible and convenient travel options to their passengers.