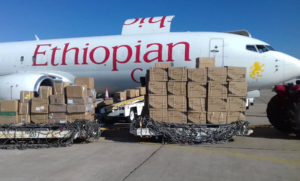 Ethiopian Airlines has opened a cargo line between Seoul and Atlanta and Anchorage in the United States. It will reduce shipping times between Asia and North America. Due to the pandemic, the group has converted a few passenger planes to support its all-cargo fleet.
Since November 9, 2020, Ethiopian Cargo & Logistics Services has been connecting Incheon (Seoul) to Atlanta, via Anchorage. The cargo route, between the South Korean capital and the two American cities, is served by Boeing 777-200F.
"Our new cargo service will dramatically reduce the total air travel time between Asia-Pacific and North America, facilitating fast and efficient global trade," said Tewolde GebreMariam, CEO of Ethiopian Airlines Group, in a statement. published last week.
This new route will densify its freight network via South Korea. From the capital Seoul, Ethiopian Cargo & Logistics Services also serves Brussels and Liège in Belgium (1 weekly flight) and Oslo in Norway (2 connections per week).
The cargo arm of Africa's No.1 airline continues to play a key role in the global effort to fight Covid-19, by facilitating the shipment of vital medical supplies to different parts of the world. Its pre-crisis network covered 57 international destinations in Africa, the Gulf, the Middle East, Asia, North America, Latin America and Europe. Due to the pandemic, this network has been extended to 74 destinations.
In addition, some of Ethiopian Airlines's passenger planes have been temporarily converted to support the all-cargo fleet which includes 10 Boeing 777F and two Boeing 737-800F aircraft. With this intensification, the carrier says it is in full capacity to participate in the global distribution of a possible vaccine against Covid-19.