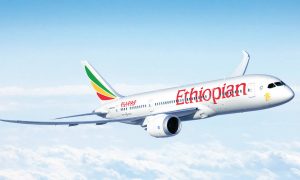 Ethiopian Airlines intends to expand its offer during this summer season. The national carrier has effectively opened flights to four international destinations namely: Athens, Chennai, Jakarta and Damman.
The Central African country's airline started operations to the new destinations last Friday. In total, it offers frequencies to one hundred and twenty seven destinations from its base at Addis Ababa Bole airport.
Along with the opening of its new routes, Ethiopian Airlines has announced the opening of a luxury hotel at Addis Ababa airport offering a restaurant and luxury rooms to passengers wishing to stay close to their departure airport.
With a modern fleet allowing it to fly to one hundred and thirty destinations around the globe, the Ethiopian carrier continues to increase its capacity from one year to another by opening flight opportunities to new skies, to maintain its leading position in the air transport and freight market on the African continent.