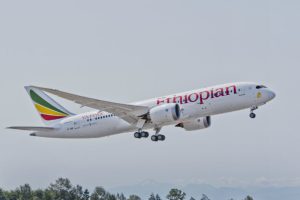 Ethiopian Airlines has increased the number of its weekly flights to Newark, New Jersey.
Ethiopian Airlines has operated flights to JFK airport for over a decade and has made it easier for passengers to travel to the United States from Africa and vice versa. The addition of daily frequencies between Addis Ababa-Lome and Newark-Liberty is a simple response to the high demand recorded on this link.
Since May 29, the African airline has offered up to nine Boeing 787 Dreamliner rotations on Saturdays (at 12:45 p.m.) and Sunday (7:45 p.m.), Tuesdays (8:45 a.m.), Thursdays (11:15 a.m.) and Fridays (12:45 p.m.). Return flights depart to Addis Ababa at 1:00 p.m., 9:25 p.m., 9:45 p.m., 11:50 a.m. +1, and 1:00 p.m.
The Boeing 787 Dreamliner is one of the most popular aircraft in the airline industry due to its low fuel consumption and passenger comfort. Ethiopian Airlines was one of the first companies to purchase the Dreamliner and used it to expand its international reach. The aircraft features state-of-the-art technology, including dimmable windows, mood lighting and a lower cabin altitude, which reduces the effects of jet lag.
Ethiopian Airlines passengers can also enjoy a range of onboard services, including free Wi-Fi, in-flight entertainment and delicious meals. The airline is known for its exceptional customer service and has received numerous service awards.