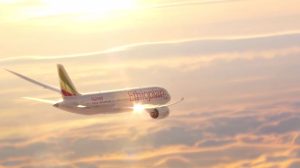 After an absence of ten years, Ethiopian Airlines is making its comeback in the skies of Central Africa. On November 15, a historic moment was celebrated when the flight from Addis Ababa Bole landed at Bangui-M'Poko International Airport, with high-ranking personalities from the African country on board. from the East, marking the start of a new era of air connectivity for the Central African Republic.
From now on, this vital connection will be operated three times a week, offering travelers a regular frequency for their travels between Bangui and Addis Ababa. Ethiopian Airlines, as a renowned carrier, brings its expertise and commitment to world-class service to this strategic route.
The arrival of the Ethiopian company in the Central African capital is not just a one-off event, but rather the prelude to a larger expansion. The Ethiopian national carrier has clearly expressed its intention to expand its operations in Bangui by establishing connections to several other regional and international destinations. Among these, we can cite Togo, Cameroon, Ghana, Gabon, France and Belgium.
Business and leisure travelers can now consider more convenient routes and increased connectivity, boosting trade and cultural exchange in the region.