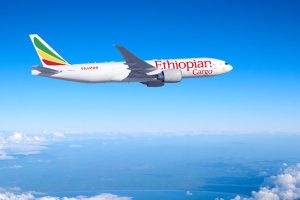 Ethiopian Airlines has added a Boeing 777-200LR to its freighter fleet, consolidating its position as a major player in the global cargo transport industry. This latest acquisition brings the total number of aircraft operated by the company to ten.
The decision to expand the fleet is driven by the growing demand for freight and logistics services worldwide. With the new Boeing 777-200LR, Ethiopian Airlines now has the capacity to transport more than 100 tonnes of cargo, significantly improving its cargo services. Currently, the airline offers cargo services to over 130 destinations, using a fleet of 67 dedicated cargo aircraft.
The addition of the Boeing 777-200LR is a strategic move by the national airline of Ethiopia to meet the growing needs of its customers. As global trade continues to expand, the demand for air cargo transportation solutions is also on the rise. By strengthening its cargo and logistics capabilities, Ethiopian Airlines is positioning itself as a key player in this highly competitive market.
In addition to increasing the size of its fleet, Ethiopian Airlines has also focused on expanding its cargo aircraft network. The acquisition of the new Boeing 777-200LR brings the company's total number of cargo planes to seventeen (17).
The importance of the cargo division to Ethiopian Airlines is evident from its impressive performance last year. The company transported 723,000 tons of cargo, generating revenue of approximately $2 billion. This figure represents a notable contribution to the company's total annual revenue of $6.1 billion.
The expansion of ETH's logistics and freight capabilities is expected to have a positive impact not only on the company, but also on the Ethiopian economy as a whole. This airline, voted best cargo operator in Africa for this year, plays a crucial role in connecting the continent to the rest of the world. By strengthening its cargo services, the airline can further promote trade and commerce, and contribute to the economic growth of Central African countries.